If big yards, closely-knit communities and a booming economy are calling out to you then Atlanta has plenty of great suburbs to choose from. Trying to figure out where to call home can be a daunting task, particularly in a city of nearly 6 million people. To help guide you in the right direction we've put a guide together with the help of Niche.com to help you choose from the top 10 places to live in the metro Atlanta area for 2020.
Our guide takes into account a wide range of factors ranging from crime rates, to unemployment data, to local school quality, to help you understand the overall quality of life across these 10 Atlanta suburbs. We provide you with some key data like population, distance from downtown, and most importantly average rush hour commute time to downtown!
Atlanta's 10 Best Suburbs 2020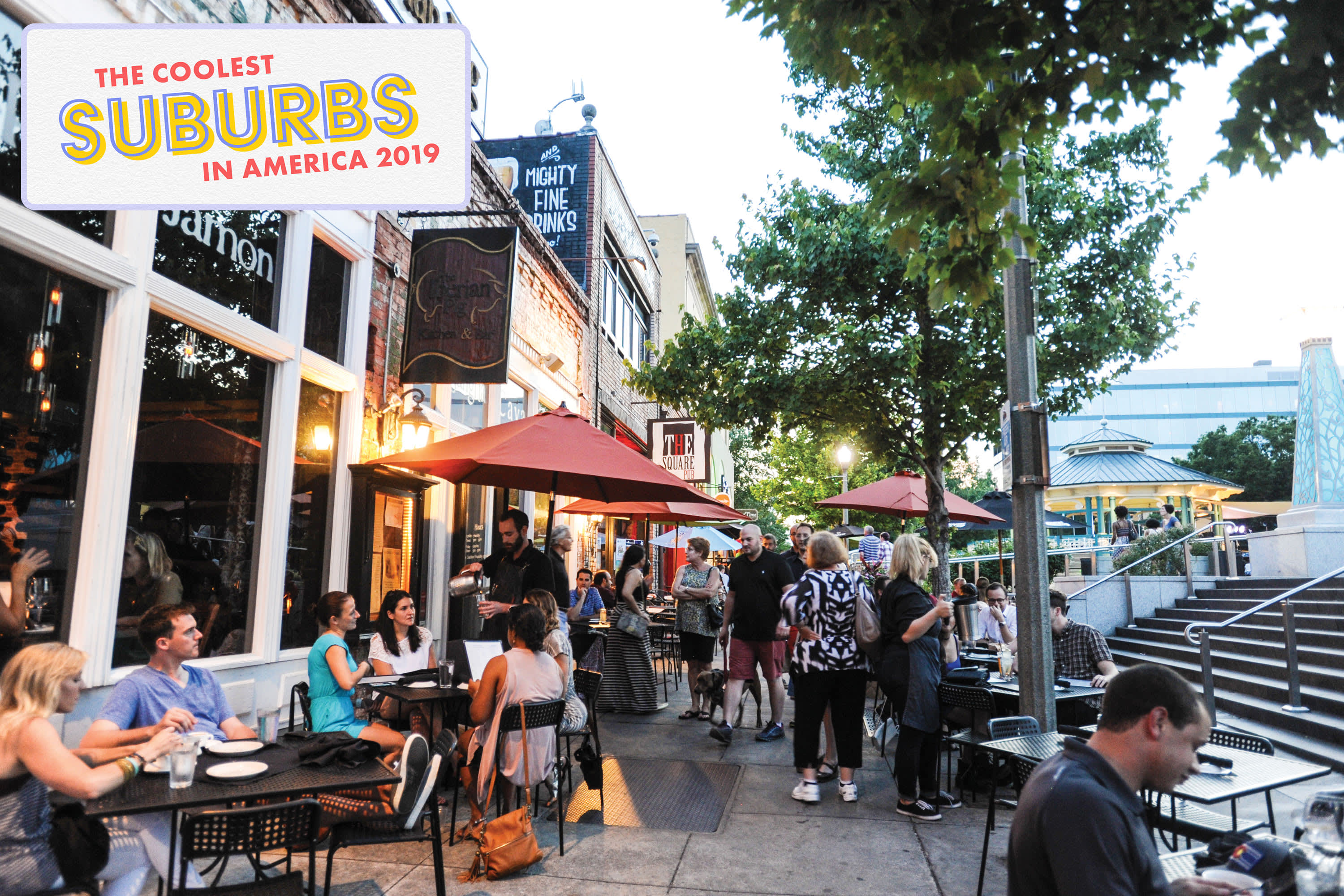 Population: 25,732
Distance from Downtown: 6.5 miles
Average Commute Time to Downtown: 20-35 minutes
Decatur has long been one of Atlanta's booming suburbs seeing steady growth since the mid-'90s. As Atlanta got more crowded people looked east to settle down. A shade over 6.5 miles from downtown, Decatur offers its citizens a charming historic vibe only a short drive from the city. With plenty of shops and bars, along with the nightlife along Decatur Square, many Atlanteans, couples and singles have come to call Decatur home.
Decatur continues to maintain its reputation as a hip suburb of Atlanta, with some of the area's trendiest venues for live music such as Eddie's Attic (where it is said John Mayer was discovered) and The Vista at Napoleon's in town.
Average property values sit at $423,915. Whether you're a millennial or gen Z getting your first job, or newly weds looking to start life somewhere more lively Decatur, has what you're likely looking for with great schools, nightlife, and most importantly, if you work downtown, a commute that should top out at half and hour most days.
2. Alpharetta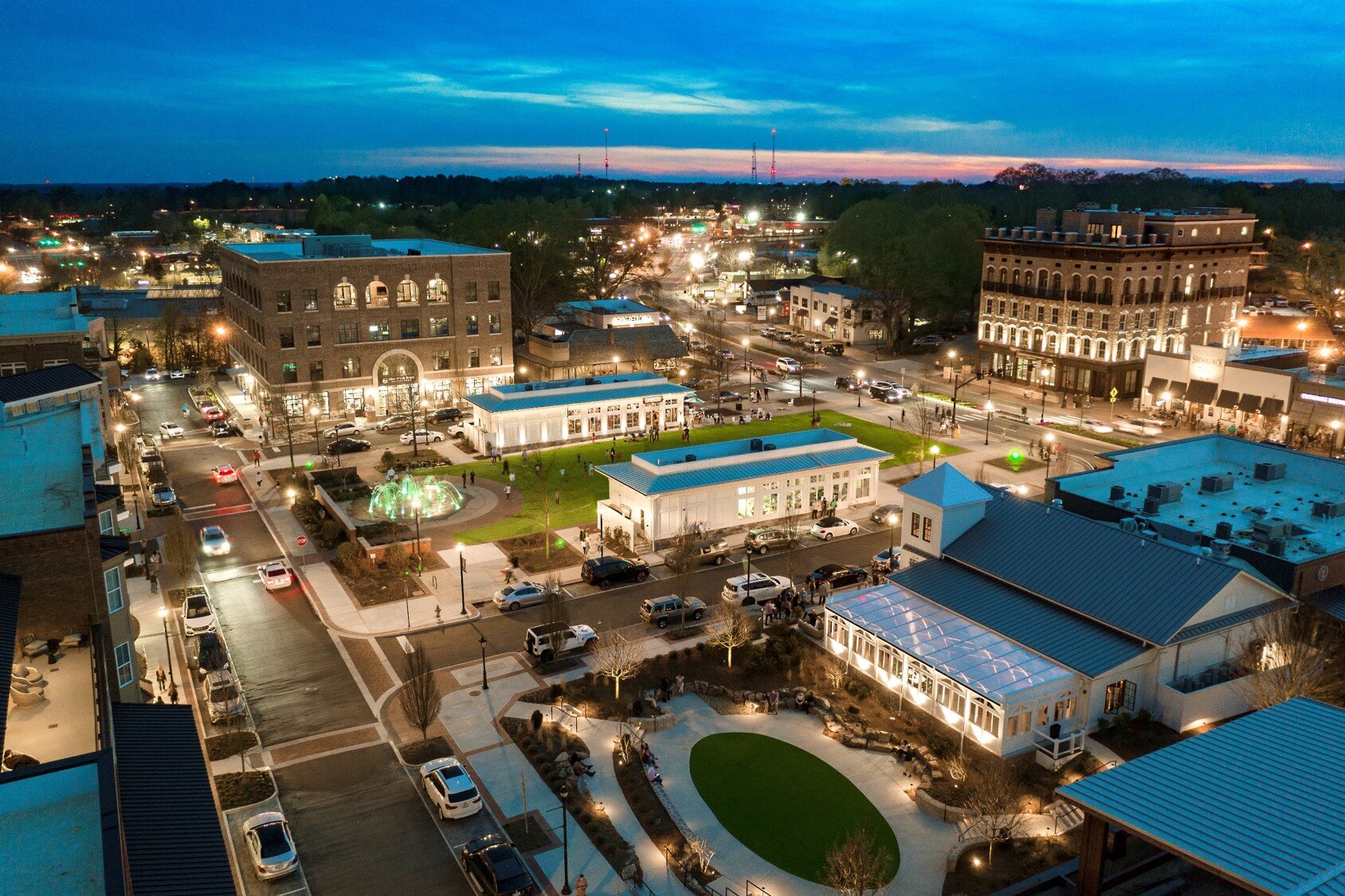 Population: 66,255
Distance from Downtown: 25.5 miles
Average Commute Time to Downtown: 60-90 minutes
Alpharetta is one of Atlanta's fastest growing suburbs drawing people in with an affordable cost of living, great schools, and a wide range of entertainment. Situated 25 mile from downtown, properties here tend to be larger. More bang for your buck property wise comes at the cost of your commute. Official figures site average commute times of 60-90 minutes into downtown Atlanta. Locals have told us to add half an hour to those figures.
Niche rates Alpharetta as the #1 place to raise a family in Georgia. The trendy revitalized downtown contributes to high marks from families. Homes average just over $425,000 and schools are amongst the best in the state.
3. Johns Creek
Population: 84,310
Distance from Downtown: 27.3 miles
Average Commute Time to Downtown: 50-75 minutes
Johns Creek is one of Atlanta's poshest neighborhoods and home to the prestigious Atlanta Athletic Club, host of a dozen PGA championships. Johns creek sits 27 miles from downtown and locals who work downtown speak of hour long commutes as the norm. They are willing to make the trek due to the bucolic setting near the Chattahoochee river and its proximity to the Applachians. Homes average $448,000 and are larger on average than those closer to town. Some of the very best schools in greater Atlanta are in Johns Creek.

Since its incorporation in 2006 Johns Creek has been consistently ranked one of the best places to live in the country. Average incomes here are higher than average for the area and sit just shy of $120,000 per year. If you're looking for a safe affluent enclave with fantastic schools in Atlanta look no further.
4. North Decatur
Population: 17,298
Distance from Downtown: 6.9 miles
Average Commute Time to Downtown: 20-35 minutes
North Decatur, much like Decatur to the south has long been considered one of the premier neighborhoods in the Atlanta metro area. With a short commute to work by Atlanta standards, and the bustling urban core of Decatur nearby replete with trendy restaurants, North Decatur is perfectly situated for young couples and new grads alike who want a slightly more suburban feel.
One area where the region struggles is in its cost of living. If you're planning to move here be prepared to pay for the local amenities. Another area where there is room for improvement is in the local crime rate. While low, it still is higher than in many other Atlanta suburbs.
5. Milton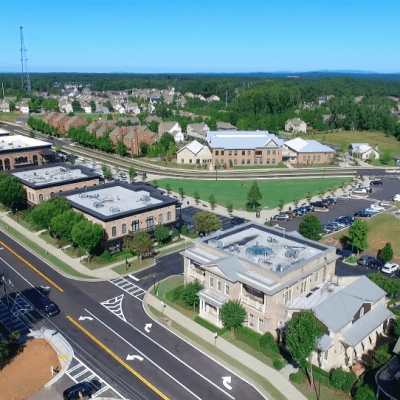 Population: 39,217
Distance from Downtown: 31.4 miles
Average Commute Time to Downtown: 60-90 minutes
Incorporated in 2006, Milton has been a rising star of Atlanta for the past 5 years. Property values here average nearly $600,000. Milton is known for being an incredibly safe, tight knit community, with local traditions like the Crabapple Festival in October.
Commutes here are long, with respondents telling us they regularly spend 3 hours a day commuting back and forth to downtown. Milton still boasts some farmland that has yet to be developed as the Atlanta Metropolitan area continues its expansion. If you work from home, or will be telecommuting in light of Covid-19 then we highly recommend you check out this more rural suburb.
6. Berkeley Lake
Population: 2,129
Distance from Downtown: 25.7 miles
Average Commute Time to Downtown: 50-75 minutes
Berkeley Lake is the smallest community to make our list at just over 2,100 residents. What it lacks in size it more than makes up for in desirability. It is ranked as the best suburb to live in in Gwinnett County by Niche with fantastic schools, low crime, and a beautiful lake residents can call their own. Average property values here sit at $495,000 and residents average an hour long commute to downtown Atlanta.
The area consistently ranks in the top 10 for best places to raise a family across the entire state of Georgia. It is a suburb in the truest sense and while it lacks a true downtown it does have its fair share of small shops and restaurants. Families looking for a more traditional suburb should consider Berkeley Creek as they decide where to call home.
7. Suwanee
Population: 20,569
Distance from Downtown: 32.7 miles
Average Commute Time to Downtown: 50-90 minutes
Suwanee, Georgia has been recognized many times as one of the best places to live in America. Homes here average $370,000 and the school district is the largest across the state. The suburb is formally recognized as a town and has a very traditional downtown replete with a town square. This area holds regular events for the community including their famous Suwanee Fest in September.

Georgia's Chamber of Commerce recognizes Suwanee as a top 10 city to call home across the entire state. For those seeking a traditional small town experience all within an hour commute of downtown Atlanta few towns shine as bright as Sewanee.
8. Roswell
Population: 94,650
Distance from Downtown: 25.8 miles
Average Commute Time to Downtown: 50-70 minutes
Roswell has the largest population of all the suburbs on our list. While it may be the biggest, it still has small town charm. Downtown Roswell boasts incredible restaurants such as Table & Main, charming boutiques, and art galleries. Homes here average $423,000 and commutes into the city will set you back an hour or more.
Anyone who grew up in a smaller town will immediately feel at home here. Roswell is perfect for those who value the outdoors, a traditional downtown filled with dining and shopping, all within commuting distance of the city.
9. Peachtree Corners
Population: 42,509
Distance from Downtown: 22.3 miles
Average Commute Time to Downtown: 40-55 minutes
Situated on the western side of Gwinnett County, Peachtree Corners sits adjacent to the Chattahoochee River and all the outdoor activities life on the river affords. It is the perfect spot for those craving access to the outdoors yet want to be near the big city.
Every June the community comes together to celebrate the Peachtree Corners Festival. For those on the job hunt, Peachtree Corners is home to Comcast's SE Headquarters. At only 22 miles to downtown it's a short drive to downtown on the weekends, and only a 45 minute commute during the week. Homes here average $365,640 making it one of the most affordable suburbs in our top 10.
10. Vinings
Population: 11,816
Distance from Downtown: 11.2 miles
Average Commute Time to Downtown: 16-26 minutes
Vinings was once a small dot on the map, a tiny enclave near downtown. In 2017 that all changed with the construction of Tuist Park, formerly known as Suntrust Park, home of the Atlanta Braves. Vinings is more affordable than many of the aforementioned neighborhoods with average property values of $366,000. It's location is a major draw, with it sitting 11 miles from downtown. It's main draws are its location as an inner suburb, the aforementioned Tuist Park, and its location along the Chattahoochee River. The presence of the Braves has understandably led to a plethora of drinking and dining establishments in the area. For those needing an outdoor escape, miles of trails traverse the river all the way into downtown.

For those seeking a vibrant ascendant suburb within a 20 minute commute of downtown Atlanta Vinings may be the perfect fit. Lower cost of living, ascending property values, extensive indoor and outdoor entertainment, all contribute to making Vinings a neighborhood we're eyeing as Atlanta expands as a metropolis.
---